SIMPLE SOLUTIONS TO ELEVATE YOUR HOME
The Bare Home Started As A Passion Project.
I remember becoming very conscious of sustainable living during my time in Germany. I loved the simple things people were doing in their daily lives to be more environmentally conscious and I quickly began to adopt this "new" way of life.
After 7 years, my husband and I decided to move back to Canada with our young family. I knew life in Canada was going to be much different than what I had become accustom to in Europe, but I was feeling inspired and excited to bring some of that lifestyle home with me.
I had caught the entrepreneurial bug around that time and was actively looking to start my own business. But it had to be something that I could truly feel passionate and good about...
THE BARE HOME IS BORN.
At first, the Bare Home was more than cleaning products. I was offering a variety of fair trade foods and other zero waste products. However, I quickly noticed that customers were most interested in the refilling options for my laundry and cleaning products. So I began to pivot my focus towards cleaning products and even went as far as having customers leave their empty bottles on their doorstep and I was driving around refilling them!
It was clear that people loved the idea that they could have one bottle and simply refill it. They wanted the convenience without the waste.They're looking for a better option and I was ready to come up with a solution. 
THE BARE HOME 2.0
After months of design and development, I launched a full line of cleaning products along with a unique 3 liter and 10 liter at-home refill station and in-store refill station.
When creating the collection, my two priorities were to create products that were effective and clean for the environment. This meant that all of the products would be biodegradable, phosphate free, and dye free. Never tested on animals and only scented with high quality essential oils. 
By using refillable products in your home, you're contributing to the elimination of single use plastics. Refilling with one three liter box replaces six bottles going to landfill.
SMALL CHANGES MAKE BIG IMPACTS.
OUR MAIN PRIORITIES
Effective And Clean Products For The Environment
All of our products are biodegradable, phosphate free, and dye free. Never tested on animals and only scented with high quality essential oils.
OUR MOST POPULAR COLLECTIONS
CREATE YOUR AT-HOME
Refill-Station
The Bare Home was created with the notion that refilling your bottle is better than tossing.
Start your at-home refill station today and enjoy the convenience of refilling from the comfort of your own home.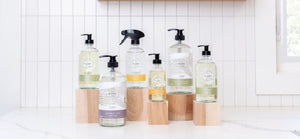 We Believe In Sustainable Living
Fundamentally, sustainable living is about the intersection between our natural lives and our built lives. Between what grew and what was made. Finding the balance between what is needed and what is wanted.
SMALL CHANGES. BIG IMPACT
The Nest Reward Program
A way to say THANK YOU for supporting our business and reducing plastic waste.