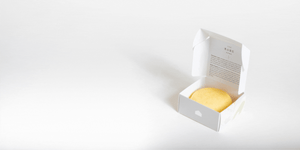 Fundamentally, sustainable living is about the intersection between our natural lives and our built lives. Between what grew and what was made. Finding the balance between what is needed and what is wanted.
Sustainable living is not a question of doing without — a constraint or compromise. Nor is it an assertion that packaging is the line between good and evil, or the alarm bell for your conscience. It's really about the dial. Dialing the balance back from pack-aged to loose, or processed to raw, or manufactured to natural — to suit your life.
Having control over the dial without compromise. And feeling confident that in this case, the case of what you choose to purchase for you and your home, that the dial controls the music before it's made.
Sustainable living is about choice. It's control. Controlling your health. Controlling your consumption of what's easy to understand. Deciding how close to nature, or natural, you feel you need. Choosing to purchase goods that others have produced in good conscience, or to do good, or to improve on a wrong, or to start again.
Choosing to engage in these products and their life cycles puts you into the solution as part of the product. The product being a means to improve our world. Engaging in sustainable living products isn't self serving. It's making the world a better place one purchase at a time, with each use and with every endorsement.
Walking through the doors of sustainable living is to discover a community. An inviting and engaged group of people who are inspired by the change toward good products, and who thrive on meeting new people and introducing them to uncompromising yet paired back goods that improve our lives.
Sustainable living is an invitation to learn more about positive concepts around personal health, the environment, our waste system, our food systems, local producer stories and ways to make life easier and simpler. It's an invitation to join in the enjoyment of making our world a better place together.